I figured I'm really overdue in posting about my crafting endeavors, so I thought I'd share about these sweet little flowers I made last Saturday.
I love having fresh flowers in the house, but we're still months away from any cutting flowers growing in our garden. When I came upon some cute yellow polka dot cupcake liners for $1, I decided I could make my own flowers to brighten up our dining room.
This whole project probably took about 15 minutes, and it was started and finished while Luke was coloring and playing with stickers, so I was kind of figuring it out on the fly and using what I could easily grab.
Supplies:
cupcake liners
felt (or fabric/paper and drinking straws)
glue
floral wire
scissors
The first step is to take two liners. Flip one inside out – so the pretty part is on the inside – and stick it in the other one. It gives it a double-sided look and some fullness.
Then just pinch the middle together to form a point.
For the felt, I just used some triangle shaped scraps I had (like I said, I was working fast!). They were about 7 inches tall, and the bottom edge was about 3 inches wide. They made for pretty short flowers, so I'd cut a taller triangle if I was actually cutting out a piece – at least 10 inches. You could also use other fabric or scrapbook paper, you'd just need to wrap it around something like a drinking straw. The felt is thick enough that it forms a good stem simply by wrapping around itself.
Okay, so take the narrow tip of your felt and wrap it around the point of your cupcake liners. It might be super helpful to have something like a glue gun, but I made it work. Make sure you grab enough of the liners to get a good hold on it, then tightly wrap the floral wire around both the felt and the liners. Don't worry too much if your liners are getting a little wrinkled, because they'll unfold and cover that part up.
Once you've gotten it started, just keep twisting the wire around the stem, and keep twisting the felt around itself.
The stem will get thicker as you work downwards, since it's cut in a triangle shape. The wire makes it sturdy but bendable.
Now it's time for the center. Take another cupcake liner and squish it into another point.
Unfold the base flower that's already attached to the stem and add a dab of glue (again, hot glue would be super helpful). I just squished and pinched until it felt secure.
Unfurl and primp and do what you need to do to make it look pretty! Make a few more and you have a sweet little bouquet that won't go bad in a few days!
You could totally try making all kinds of flowers – I stuck with the one inner bloom because I thought they looked a bit like daffodils. But you could fill them out more and try all sorts of variations!
Makes me excited for spring.
Speaking of spring, I've added a few spring-y things to my etsy shop, like this fun mini bunting garland.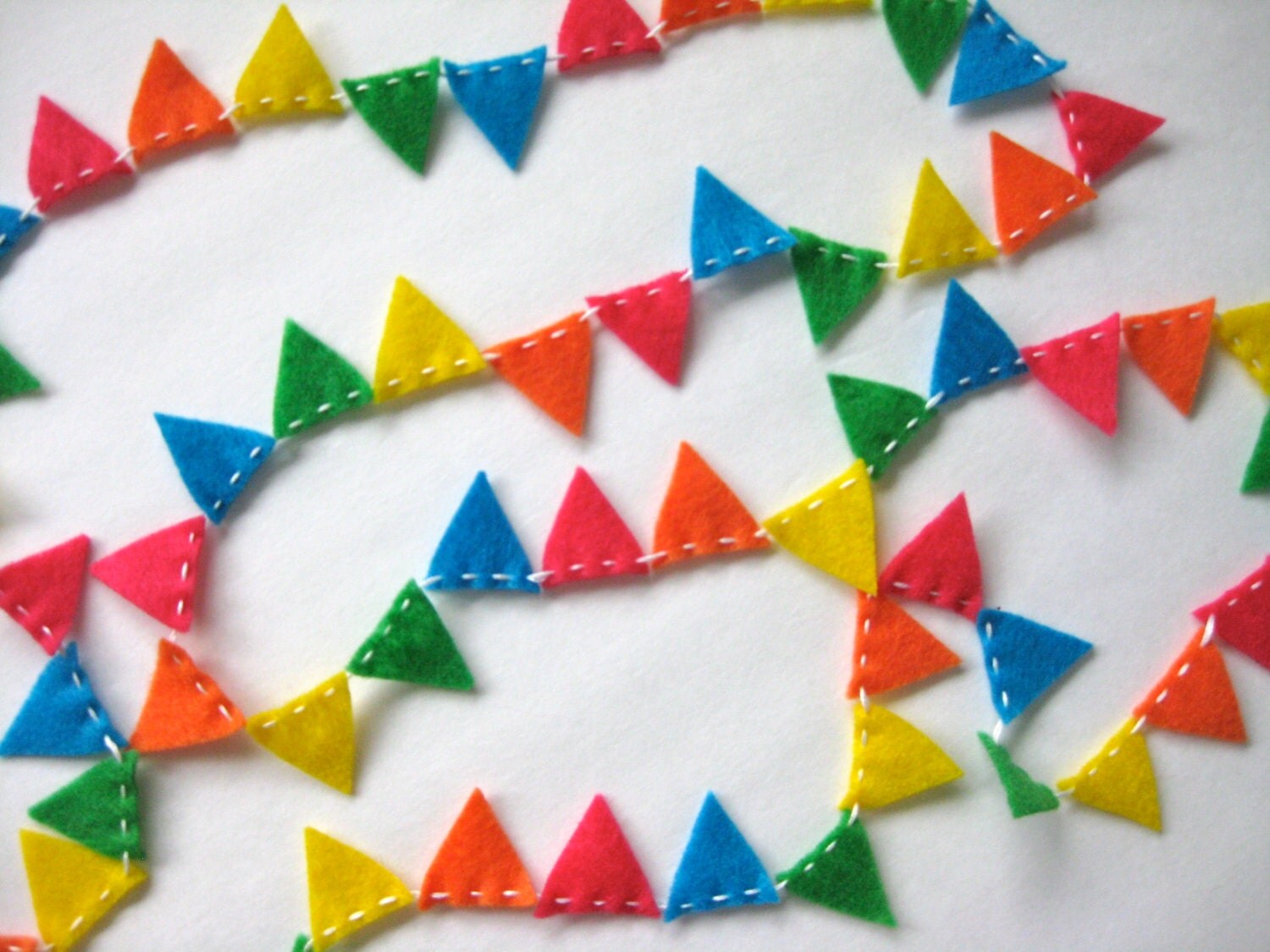 The bright colors just cheer me up.
Happy flower making!