From the looks of that face, you'd never know that he's been feeling sick the past few days. And I am so happy to see that little smile back on his face.
We've been so fortunate to be pretty healthy this winter – maybe a slight cold here and there, but nothing that really set us back until whatever we came down with this past weekend.
It's hard for this energetic little guy to rest up, so we found ways to keep him entertained until he was up for his normal running around.
He received a set of fun building blocks from his grandpa for Christmas, but we hid it in his closet so he didn't get overwhelmed by trying to play with all his new gifts at once. We decided this weekend was the perfect time to break it out, and he loved it. He still loves knocking down towers, but he's also more curious and capable of stacking them himself, so this was a great quiet activity for him.
Since we are FINALLY moving past the everything-must-go-in-my-mouth phase, I broke out some dried beans for him to play with (under close supervision, of course). He had lots of fun sorting and dumping out the beans – he's definitely at an age where he's working on his fine motor skills, so he loves picking up small objects.
And of course, for those inconsolable moments, there were "orcas!" and "dol-dols!"
He is in love with the orca and dolphin shows at Sea World (can you blame him? they're pretty awesome).
Normally his viewing is limited to dinner prep time, but since he was feeling so miserable, we were pretty generous with letting him watch it a few times a day.
He was clearly feeling better yesterday, and he was not impressed that his cries for "orca!" were going unmet (apparently the library book on orcas was not an adequate substitute).
Definitely didn't think the withdrawals would be quite this bad. Or whiny.
I recently made this hoop art, featuring a quote from Madeleine L'engle's book A Wind in the Door, for my etsy shop: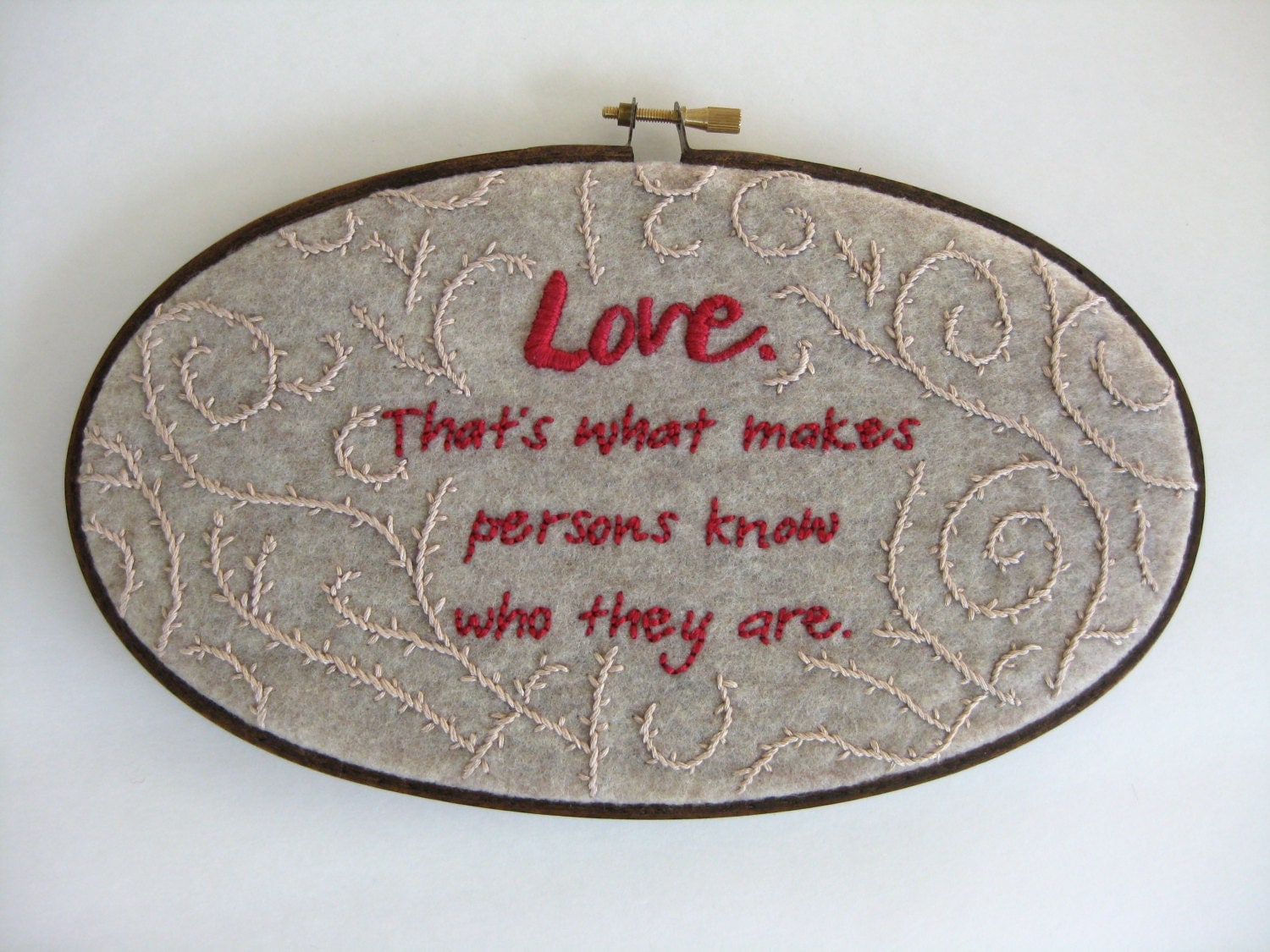 We have a different embroidered piece with the same quote hanging right outside Luke's bedroom door. I have always loved that quote, and now it is a daily reminder that as Luke's mom, I have the privilege of helping him form his identity. I hope that the love and grace that I show him are a reflection of God's deep, unending love for him, and that in that love, he can know his worth and truly be himself.
And these days, that love needs to show itself through some intense patience. (Not my strongest quality, that's for sure).
Many prayers for patience were said as I explained again and again that we wouldn't be watching the orcas until it was time to make dinner. Like every 5 minutes. Hopefully our consistency will win out and he'll be able to move on with his life.
And really, we're just happy that little man is feeling better – soon enough he'll be his cheerful little self again.
Stay healthy everyone!